Episode 3: Dinner Plans
Bebop was ready to go to the market. His cupboard was bare and cold weather was near. The tips of his long, floppy ears were chilled.
He shot out of his home and headed straight for town.
The first stop, Alahandro's restaurant. He puts more good stuff out back than any other restaurateur. You could always count on lettuce, tomatoes, carrots, and more.
Bebop paused to use his huge foot to pull a piece of lettuce toward him. He picked it up and sniffed it.
Next door, Sioux was stocking up at the fishmongers. "Hello Sioux," said Bebop.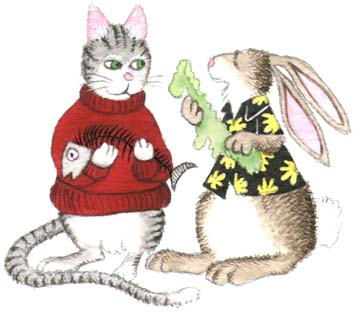 "Hi Bebop," she answered, "Out shopping? Me too."
Just then Snooks zoomed by. He saw his two friends and stopped. "Hey guys, are you cooking tonight? I could sure use some decent food. I am tired of nuts. Nuts, nuts, nuts, and more nuts. I need a break."
Sir Francis, overhearing this, came over to join them. "How about we all meet at my place and cook dinner? I have some pasta and a terrific sauce my Mom makes. Old family recipe."
"Sure!" they all chimed in.
"Well then, it's decided," said Sir Francis, "After sunset, we all meet at my place for dinner."