Episode 4: Jam Session
Sir Francis was mesmerized by his piano. "I just can't get enough of the music." He set himself down to play. Jazz, classical, old show tunes. He was in heaven!
Snooks heard the sounds and started to bring his guitar. He tripped and popped a string. "No problem," said Sioux, who saw the incident. She pulled out a new string and helped Snooks get it in place.
They both headed over to Sir Francis' home. They picked up the beat and the sounds started to drift out to the forest.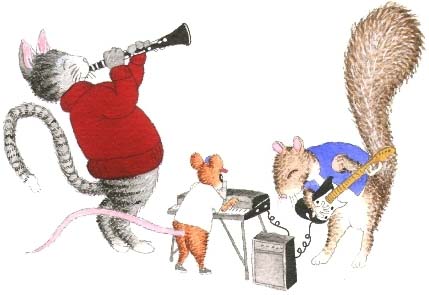 Speedo appeared with his bass violin and started to dominate the heavy sounds. His head was high and his paws strummed like there was no tomorrow.
Howdy marched in with his drum and began his Gene Krupa routine. It was awesome. The big band sound was somewhere deep in the group, but it languished until Brea started in with the cymbals. Oh boy, the sounds were reaching a feverish pitch.
Tex popped his triangle onto the clothes hook and began using his neck ring to make the super high-pitched sounds. The rhythm was terrific.
Matilda on tambourine was good, but Sioux on the clarinet...just special, very special.
Bebop hit the high notes on the flute. The group just rocked.
Snooks was ablaze on his guitar and began his Flamenco dance ritual. They all stood up and cheered. Snooks was again pitching for the win in his mind. It was so easy to be the "great" Snooks!
Then a big halt. The sounds stopped. They were wide eyed. Hugs had let off two mighty blasts of the canon. Snooks said, "Hey, let's make something in the kitchen."
Sir Francis rolled his eyes. What a mess. But hey, Snooks knows American Food and well, Thomas K. doesn't quite like the flat nature of it, but it is sooo good.
Snooks put on his apron. Everyone else resumed playing and Snooks went at it like an artist at work.