Episode 7: Festival in the Forest
Bebop put on his headphones and the jazz music just flowed. His long ears moved with the sounds. He was "jazzed." He could see Louis Armstrong -- Da Man. The trumpet blared and he saw stars. His foot twitched to the tune of the music. He was in Rabbit Heaven!
Sioux watched him from a distance. Bebop picked up his flute and began to play. What a cool rabbit. Sioux walked over with her clarinet and started to play. The harmony was in the rhythm.
Bebop opened his eyes and saw Sioux. He smiled a big grin. Sioux winked back. They played on into the night. Even Moody was happy.
Snooks wandered along and plugged in his electric guitar and strummed some mellow tunes. He closed his eyes and saw himself on the mound. The wind-up was elegant, the throw graceful, and then it dropped into Hug's glove -- a slider. Snooks was jazzed. He was in the zone.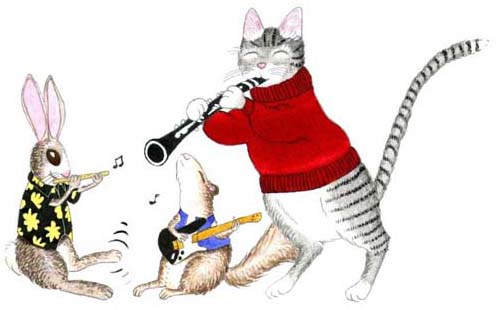 Howdy, just back from N'Orleans, talked about the street parades -- the sounds and sights.
Hugs came forward, put his cannon in place, and waited. He listened and waited. Then he let go with a boom and the jazz started in a different direction. They were all jazzed. It was a festival in the forest.
Along came Da Morgo who started to paw the ground, keeping the rhythm. She started to nose her little portable organ. The keys were soon flying. It was like a religious revival.
Then Dukester picked up the scent and showed up. He brought Sir Francis his baton. They were getting after it. Big Time. Big Time in the Old Town Tonight.
Cool group.
And Sir Francis thought, "I need my piano. Oh, where are those ivory keys. I need and love my piano." And low and behold the other animals pulled out Sir Francis' piano. He jumped to the keyboard like he lived in it. You could hear the sounds. It was beyond great. Sir Francis was jazzed. What a piano player!