Episode 20: The Team
Spring was in the air, baseball season. Snooks was already glued to the TV set. Exhibition games had started. He much preferred the St. Louis Cardinals. Snooks thought to himself, "What a cool color for a uniform, smashing red!"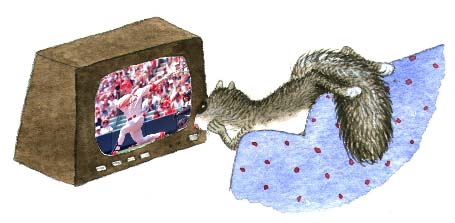 Sir Francis searched for his coaching cap. Every year lost under the other hats, every year found! He loved baseball.
The equipment room at the community pool house was chock full of gear. Every animal had his own uniform, glove, and shoes. The team colors were royal blue and immaculate white. Away games were a rich gray with dark blue letters. Snooks was number eight.
Frumpy got the field ready and then Hugs came along and got it right.
Ringer was on first, the stretch of his neck and wings assured consistent outs. Speedo, on second base, was terrific. Howdy was at shortstop practicing his moves. Brea covered third and was elegant beyond the image.
In left field, dreaming of Barry Bonds, was Sweetie Pie. High Five was in center with a perfect fielding record intact. Matilda was out in right field, the safest place for her and the team.
Snooks was warming up his pitching arm, the best hurler in the league. Hugs was the catcher. Big Girl was home plate umpire.
Hugs at bat was a thing to behold. The strike zone was large, beyond any pitcher's dream, but Hugs' ability to hit home runs struck terror in the hearts of the opposing pitchers.
Moody kept yelling "Strike three!" hoping everyone would go home. He hated baseball and soon departed for the concession stand, only to return with more jeers at the team. Sir Francis looked over and smiled. "Poor fellow, could never get the hang of baseball. What a shame. Such a grand game!"
Talking Machine was already in the stands shouting at Big Girl, "Bad call! Can't you see the plate!" Of course, the game hadn't started, but that never stopped Talking Machine.
Dukester was following his nose, "Yep, there are the hot dogs."
Da Morgo was in the dugout. All of the bats had to be in order, cleaned and ready. She was busy.
Charles was watching from the concession stand. Things kept falling and he kept eating.
Sir Francis, surveyed the grand scene, grinned, and thought, "I know one thing, nothing beats doing things with friends." And he was right, was usual.