Episode 26: Morning Concert
Sir Francis searched in his closet for his conductor's outfit. "I know it's somewhere, buried under this or that."
"Where's my baton! Ah, here it is."
He walked outside and stood on the porch. There was a hush in the air.
Sir Francis looked into the orchestra pit. All of the animals were assembled and at the ready. The outfits were a bit ragged for a formal, classical piece, but what the heck!
Sir Francis raised his baton. There was a hush, except for Moody, who seemed to have no control.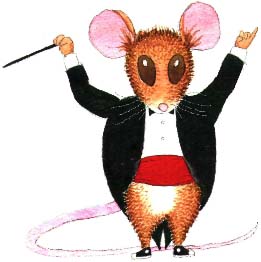 Sir Francis began with a quick motion of the baton and the music started. He had chosen Chopin. The hush in the air had now become an explosion of instruments. Animals grinned in the glory of the sounds.
Flit was everywhere making sure pages were turned and water and food were in place.
The ecstasy seemed to go on for, well, the sun was now completely up. It was a glorious day. The excitement. The thrill.
And then Snooks tripped in the orchestra pit and, well, it ended and then it began again.