Episode 33: Cooperstown
Hugs landed with a thud and then Snooks popped out. They were covered with all of their luggage and gear. They found themselves in a small grove of trees. In the distance they heard a train whistle. But the voices had a different accent, it was the sound of Yankees.
Snooks took a peek over at the train station, the sign said, "Welcome to Cooperstown." Snooks fainted and Hugs rushed to grab him.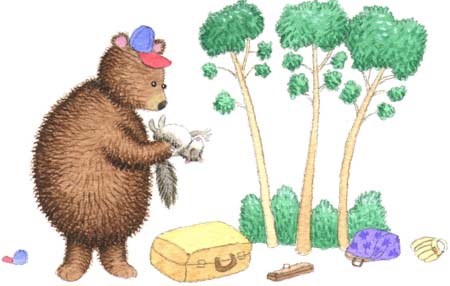 Hugs spotted the sign and grinned. "That Sir Francis is something else. Just when you think he has run out of magic he does something else so special."
Hugs, realizing that Snooks was all right, walked to the Cooperstown train station and ate several hot dogs with chili. He perused the magazine rack and then asked the ticket seller how to find the Baseball Hall of Fame.
Hugs returned to the small grove of trees and briefed Snooks on their walking plans. Snooks suggested that they change into their swimming clothes since there was a large lake in Cooperstown.
They were so excited that they played a little catch before setting off. Snooks said his swimming trunks were a bit tight and it seemed to give his pitching arm a little extra snap. Hugs noticed that the ball had some extra speed, but figured that Snooks was just excited about being in Cooperstown.