Episode 37: Scribe's Story
Scribe went outside to the stream. He took his little paws and dipped them into the water. It made his face feel refreshed the minute the water touched his fur. He was so sad to have acted in such an unprofessional manner. What in the world had he been thinking? He knew better.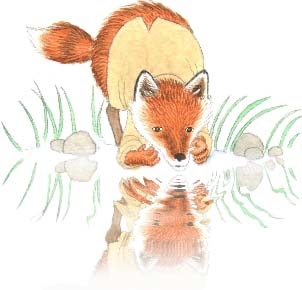 Scribe slowly walked back into the Cutter & Scribe newspaper office. He returned to the conference room, sat down and began to tell Cutter everything.
"Well," he began, "I was doing a story on the expansion of the train station. Frumpy, the general manager, was excitedly telling me that the number of animals traveling was on the increase and that the train company needed to expand the facilities."
"Then, out of the corner of my eye, I spotted Snooks running from the little grove of trees. He was carrying some type of award. I politely excused myself from the station manager and gave chase, thinking this might lead to another story."
"I watched Snooks run to Sir Francis' house with the trophy. He leaped through the door, put the trophy on the table, and ran as fast as he could back to the trees near the train station."
Scribe paused, took a sip of water from his bowl, and continued. "I darted after Snooks and grabbed his hind leg. That is when you came along and stopped me. All I know is that he came out of the tree hole and he went back into the tree hole."
"Wow, that is some story," said Cutter. "Let me get this straight. You saw Snooks leap out of a tree hole with a trophy, run to Sir Francis' house, leave the trophy on the dining room table, and scamper back to the tree hole...where you tried to question him?"
"That's right," said Scribe, "and he refused to tell me anything. Then you pulled me off and Snooks disappeared into the tree hole."
"Oh my goodness, oh my gosh!" said Cutter, "That is some story."